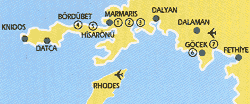 Fethiye & Kayakoy & Oludeniz
Kayakoy, also known as ghost town, is a fairly unusual place. A skeleton population now inhabits what must have been a bustling market town. Its population of Orthodox Greeks were deported during the exchange of populations that took place after the establishment of the Turkish Republic in 1922. Recently the old houses surrounding the old town have been restored into simple charming and attractive pensions. No one can actually live in the old town, except the ghosts.
Oludeniz, known for its sheltered lagoon of great beauty, is almost totally cut off from the sea. At the northern end of a long cove is a long, sandy public beach. This is all we can say for a day of looking at or partaking in hang gliding but for overnighting we think it is just far too crowded and unless you are there in the low season you cannot enjoy the beach.
Fethiye is a port of entry in high season for ferries from Rhodes. It has a beautiful natural terrain once you pass the overcrowded town of Oludeniz. Naturalist and some very wonderful shops for spiritual awareness are organized in this area see workshops in hotel info for contacts.