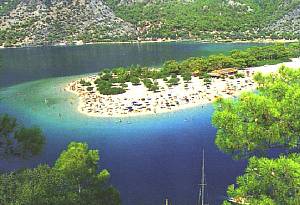 Fethiye & Kayakoy & Oludeniz
Kayakoy. Its location is very handy for the less visited beaches of the area and the valley in which it is nestled is particularly attractive, especially if you approach it on the old road from the middle of Fethiye. I like the walk through the old town, with its glimpses of color remaining on the walls of the ruined houses. If you do visit, make sure you have a look at the pebble mosaics of the Panayia Pirgiotissa Church that speaks eloquently of a community that took pride in its culture.
Continue your walk to the seaside and swim to Gemiler Island (St Nicholas's Island), Byzantine ruins lie tucked among the pines. South of Kyidyirak beach, Kötürümsü Bay is reachable only by boat. Beyond the idyllic beach, a forest, waterfalls and a valley filled with hundreds of varieties of butterflies await the explorer.
If you've ever been into a travel agents offering holidays to Turkey then you've probably seen pictures of Oludeniz. Second only to the Istanbul skyline, the lagoon is featured on a multitude of posters, postcards and brochure pages. It's not surprising, as the characteristic shape of the coastline here has resulted in a unique bit of beach. It actually is gorgeous and the inevitable development of the little village (I think there was one here once) has been fairly restrained. A couple of years ago there were more building sites than sun loungers within 10km of the lagoon but everything seems to be settling down now and it's still a very nice place to be if you want to visit the beach.
Fethiye. A bustling resort town with the functionality of a working regional center. Arrival at the bus station may give you the impression that you've come to the wrong place with no evidence of the sea, hotels, restaurants or any trappings of the tourist industry but a 5 minute taxi or dolmus ride into town will begin to reveal the place to you in it's true colors. No hotels make this an attractive area for those wanting resort except if you want one of the package holidays offered by some of the large resorts on the peninsula (not to be found on our web site).