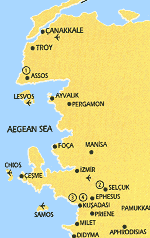 Assos & Troy& Cesme & Foca
The city of Canakkale lies at the narrow, 1,200-meter entrance to the Canakkale Strait that connects the Sea of Marmara and the Aegean. Passenger and car ferries run daily between Çanakkale, on the Asian side, and Eceabat and Kilitbahir; on the European side. Yachts navigating the straits stop at the well-equipped Canakkale Marina to allow tourists more time in the area and views of the Kilitbahir Fortress and the Çanakkale Archaeology Museum.
The name Troy refers both to the remains of a Bronze Age fortress and city at Hisarlik, near the entrance to the Dardanelles and to the legendary city of King Priam that was destroyed by the Achaeans in the Trojan War. There are reasons to believe that the physical remains in Troy today correspond to the city in mythology but we will let you decide once seeing and then reading Homer.
Assos was an ancient harbor city famed for the three years that the philosopher, Aristotle(teacher to Alexander), was head of a philosophy school there. With its picturesque natural harbor and castle on the hill, this place offers the perfect one to two day stay. An ideal location for those wanting to take short excursions to the famous sites of Troy and Canakkale, it also offers a relaxing stay by the sea.
Further southwest are the very pleasant seaside towns Foca and Cesme. Currently there are no small charming hotels in these areas. However, Cesme offers some very large deluxe style hotels which may be listed in the Mediterranean Collection at a future date. Foca has some beautiful undeveloped beaches and bays -- great for independent travelers.