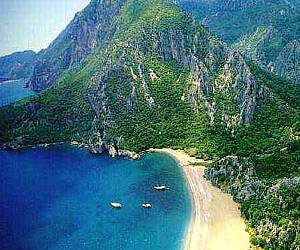 Olympos
One of the prettiest and most remote sites in this part of Turkey, Olympos combines an Indiana Jones site with a good beach and great scenery. Located in the middle of a national park area, the site is set on both sides of a stream which is fed from the surrounding hills. Never really excavated, much of the area is covered in fairly dense woodland which gives it the air of an unexplored, secret place. It's nice to be able to combine exploring with swimming and sunbathing and the nearby village of Cirali (Chimaera) makes a good base, 10 minutes walk along the beach and with a much wider range of accommodations than those offered by Olympos itself.

Olympos was one of the most easterly of the Lycian cities and takes its name from Mount Olympos of Lycia, now known as Tahtali Dag. The city was dedicated to Hephaestus, god of the forge, to whose presence was attributed the ever burning flames of the Chimaera, located the other side of Cirali.
Phaselis is an ancient city where only surface excavation has taken place. This is why it is still among pine trees and under green vegetation. The combination of ancient remains with a forest surrounded by sea on three sides makes it a beautiful national park. Phaselis, located between the borders of Lycia and Pamphylia, was legendarily founded by colonists from Rhodes in 690 BC. Because the land was not suitable for agriculture, Phaselitans excelled as great traders. They are supposed to have bought the land in exchange for dried fish which led the emergence of a proverb "Phaselitan sacrifice" to be used for cheap offerings.
South of Olympos, tranquil waters and sandy beaches line the Bay of Cavus (Adrasan). Here you can waterski on calm waters, discover the colorful marine life or explore the incredible sea caves on the northern shore.


If you are ready to see a real Mediterranean Garden, almost 200 fruit trees in 1.2 acre fruit garden that pomegranate apple, orange, tangerine, grapefruit, lemon, avocado, white mulberry, black mulberry, plum, fig, olive, grape, satok (?),walnut, pecan nut, date and various vegetables are grown up will give you a big surprise!
... You will have possibility to meet with "Mediterranean Jasmines, begonias, mimosas, magnolias, mor salkımlar, lilies, various plants, flowers and fragrances!


Season

1st April - 31st October

Getting there:

80 km from Antalya Airport

Room Types:

Rooms:3
3 Houses