Browse other yacht charters in Croatia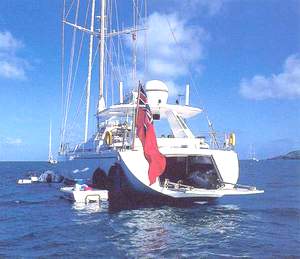 ACCOMMODATIONS:
Sleeps 10 In 5 Cabins
Mirabella III can accommodate ten guests in five cabins. There are two identical master cabins with queen sized beds, en suite bathrooms with a bath, shower and head. There are two identical guest cabins with twin sized beds, en suite bathrooms with a bath, shower and head. The final guest cabin has twin beds, en suite bathroom with a shower and a head.
The salon is large with dining and seating area as well as bar. The "library" is a pleasant quiet room for reading, board games or private meetings. The on deck dining area is well shaded and comfortable. Deckspace is clear and extensive with an extra sunbathing pad on the sleek coach roof. Seven crew.
Mirabella III offers superb performance, maximum space, unparalleled comfort and understated elegance. A top class crew cater to your every command to ensure that your charter is as relaxing or as active as you want. Guest accommodation differs slightly in that Mirabella III is more traditional in style. As well as two double and two twin staterooms with en suite bathrooms, there is a large twin cabin forward with en suite bathroom, thereby catering for ten adults. Living areas are similar to Mirabella, although minor changes have been made with guest comfort in mind. An enlarged cockpit and expansive deck provide for all guest requirements. Her 45 metric ton (50 ton) winged keel offers great stability under sail as well as powering. With her variable pitch Hundested propeller, she can motor quietly at 12 knots with a 3,500 nautical mile range. Her 9 meter (30 feet) beam contributes to a vast hand crafted interior designed to provide many separate areas for relaxation. Large pilot house windows provide a bright atmosphere throughout. The cockpit offers two tables for up to 20 people. Two aft wheels and a fly bridge offer various driving positions, the latter overseeing the large sun pad as well as the enormous foredeck.
Communications:
Direct dial satellite telephone and fax
Telex
Radio and worldwide cellular telephone
Internal telephone system