Browse other yacht charters in Greece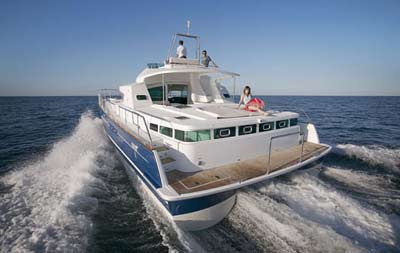 Sailing is one of the opportunites when you and the sea are together and with this very experienced captain you will be safe and adventuresome. Trips can go to places like Anafi Island or Tharassi with its bizarre painting on its buildings. Maybe it's just a private beach with wonderful snorkeling and a BBQ lunch with fresh fish -- set up as the survivors but remember you can to go back to that wonderful bed at your hotel. You can spend the whole time sailing or maybe it's the sunset cruise you want.
BLUE LAGOON is an award winning catamaran design. This new luxurius yacht combines sailing performance with stability, safety and an abudance of guest comfort.
FEATURES INCLUDE:
Easy access swimming platforms, Surround sound CD stereo, Trampoline, Forward and aft rap around seating, Six cabins with private bathrooms, Sun protected deck space, Dinghy for shore exploration, Fully equiped galley and bar.
Indulge your taste buds with our famous selection of delicious Greek dishes reflecting our climate and lifestyle prepared freshly onboard.
BLUE LAGOON MENU:
Our sumptuous meals include but are not limited to tapas, BBQs, and lavish seafood buffets. Keeping up with our reknowed culinary reputation you are guaranteed to have a meal other guest have claimed to be "the best on the island".
Exceptional cuisine for people on the go!
Every detail of your adventure, including your meals, is custom-tailored to your preferences. The menu for your entire journey is planned with you in advance, and it's guaranteed to satisfy the most discriminating palates. Specialize in healthful, high-energy dishes that enhance active lifestyles. Local proveyours provide fresh seafood, prime meats, pastas, the freshest fruits and vegetables, fine wines and spirits, ensuring the best quality.